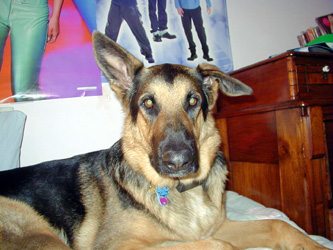 Abby
Bath, Ohio
Abby is our German Shepherd. She was found at the dog pound and now she has a great home with a big yard and another dog to play with (Penny).
Abby loves to play Frisbee with Melissa and Danni. She also loves to wrestle with Penny.
Abby is a big dog (27 inches tall) and has a big bark. She has a colorful coat and one floppy ear which makes her very cute. Her tail is very long and strong.
She likes to jump on the bed, lick your face and wake you up every morning. We love Abby and are glad she is in our family!