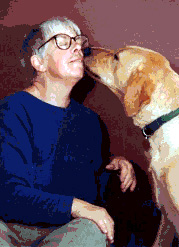 Henry
Ukiah, CA
Henry is a 2 year old Yellow Labrador Retriever. He is outgoing, friendly and will chase after tennis balls for hours. He is a very special dog and has been trained to be a partner in a Dog Therapy Team.
That means he can work (with his human partner) in clinical, community, educational, and residential settings as part of an activity or therapeutic program. The goal of every interaction is to facilitate the healing process and contribute to the individual's life. Dog Assisted Therapy acts as a catalyst for an individual's healing process. Dogs like Henry provide motivation, positive interactions, and unconditional love to people of all ages who may be lonely, depressed, in pain, disabled and/or non-communicative.
Dog Therapy Teams can help to relieve stress, motivate people to undergo their physical therapy exercises and create a positive outlook for many individuals. Henry works well with people of all ages.